What are the advantages and features of Open Source CRM software ?
CRM software is now essential to optimize business performance and competitiveness. They allow you to know more about the needs of current and potential customers. On this basis, you will manage to anticipate the expectations of your targets and improve the responsiveness of your team.
However, it will be necessary to favor an effective and flexible solution to be able to properly manage your customer relationship.
An open source CRM: what is ?
A CRM Open Source is a customer relations management program (RCMR) with a code accessible to the public. Therefore, it is possible to make in -depth modifications in order to obtain a personalized tool. You can thus adapt the Open Source CRM software to the specificities and objectives of your company.
This flexibility is really important to meet specific needs.
As a rule, an open source application offers great latitude in terms of personalization. Your employees will also appreciate the freedom granted by this type of solution. On the one hand, your developer can add to the Open Source CRM tool all the elements necessary for your activity.
On the other hand, your sellers will have the opportunity to obtain new and practical options for their missions.
The definition of open source is also based on its opposition with owner codes. Open Source CRM software therefore allows you Free up constraints specific to commercial licenses. Owner applications are particularly subject to compatibility problems.
Publishers indeed favor an ecosystem closed for their CRM tools. Concretely, their software is only compatible with their ERP and other management software.
What are its advantages and disadvantages ?
An open source CRM is often free. Otherwise, the purchase price is negligible compared to other solutions visible on the market. This advantage of the free CRM is explained by its open nature (not exclusive). Therefore, the tool does not require payment of intellectual property or operating rights.
However, these charges represent a substantial part of the cost of software. The publisher can thus reduce or remove the sale price.
Freedom of personalization is also one of the Main advantages of CRM Libre. Indeed, an open source code can be modified at will by all persons with the necessary skills. You can therefore ask your developers or your web providers to integrate specific features for your business.
It is also possible to adjust certain options according to your current or future needs. Moreover, scalability is an asset of open source in general.
However, tailor-made has a cost. You will need qualified professionals to modify the CRM code and maintain the program. Even if you have a competent team, you may divert your more profitable task developers. A powerful CRM nevertheless improves your commercial efficiency and your long -term productivity.
In short, you must pay attention to the real cost of the open source tool. This is his greatest drawback.
What are the essential features ?
THE FUNCTIONS OF AN OPEN SOURCE CRM may vary significantly depending on the publisher and program designer. You therefore need to familiarize yourself with the euphemisms used on this market to be able to identify flaws. For example, features will be particularly limited when software is presented as being customizable.
However, this characteristic defines all open source applications.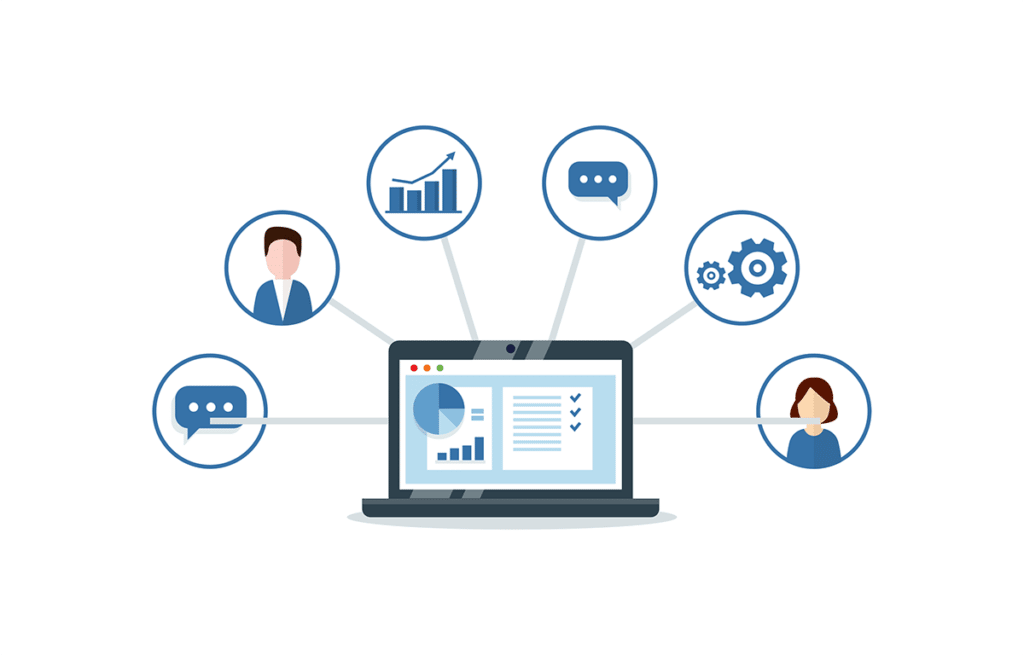 On the other hand, you will have to pay to unlock various options, if the publisher values the evolutionary aspect of CRM. Thus, the basic functions will also be very limited. You can nevertheless add many features according to your resources and your development center. Then, the tool will be able to perform essential tasks such as management:
Contacts (customer sheets, prospect coordinates, exchanged documents, historical interactions, etc.);
Leads, in order to improve the efficiency of prospecting, from the first contact in the loyalty phase;
Commercial opportunities and customer monitoring;
Quotes, by facilitating the creation and issuance of documents;
Direct interactions (calls, appointments and other meetings);
Targeted marketing campaigns.
On open source software, you can easily add the most useful options for your business. That said, some features are essential for a Customer relations management program. It is thus important to choose your tools and interlocutors in the field.
Click here to discover the best open source CRM of the moment.